People usually visit a chiropractor for the first time because they're experiencing pain or discomfort. Our goal at Chiropractic Health Clinic is to relieve that pain as soon as possible. But all good relationships must start by building a strong foundation. Before we can address your symptoms, it's important to take a patient history and conduct a thorough clinical examination. When visiting our offices for the first time, expect to spend a few minutes in consultation with your doctor before undergoing treatment.
The Patient History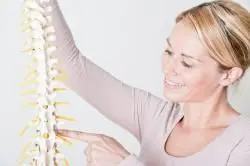 A full understanding of your symptoms and health history will help us treat you more efficiently. You'll be asked to fill out a standard questionnaire regarding pre-existing medical conditions, family health history and health provider information. Be prepared to answer a few basic questions such as:
Where is your pain located?
How and when did the pain start?
Can you describe the pain? (Is it throbbing, burning, continuous or intermittent, etc?)
Do certain activities make the pain better or worse?
Have you recently suffered a sports injury or been in an auto accident?
The Examination
Our doctor needs to perform basic tests before recommending a course of treatment. Checking your muscle strength and tone, range of motion and neurological integrity is necessary to determine the best course of action. Diagnostic tests such as x-ray, MRI or laboratory tests may or may not be needed.
Results of the consultation will help our chiropractor develop the best course of treatment for each individual patient. At this time, the doctor will be happy to answer your questions about the diagnosed condition and the treatment plan.
At Chiropractic Health Clinic we want all of our patients to feel comfortable and confident in their choice of chiropractic care.