Omaha Chiropractic Care Provides Pain Relief
At our Omaha chiropractic care facility, Chiropractic Health Clinic, Dr. Mark Eiler, Dr. Andrea Eiler, and Dr. Justin Eiler focus on maximizing pain relief. Many of our Millard and Omaha patients have experienced the relief that chiropractic care provides for headaches, back pain, numbness, stiffness, and other aches and pains. Our chiropractors have experience working with auto accident injuries, work injuries, workers compensation claims, and a range of chronic pain conditions.
Our Omaha chiropractors have the skills and knowledge to successfully treat patients who are experiencing a headache or neck pain due to whiplash or other injuries suffered in an auto accident. You may be feeling back pain or numbness due to a work-related injury such as overexertion, a fall, or repetitive stress injuries. Some patients seek care from our Omaha chiropractors to help them deal with the debilitating effects of arthritis, sciatica, fibromyalgia and other medical conditions.
Our Omaha Chiropractors Provide Thorough Diagnosis and Treatment
Our Omaha chiropractors treat all members of the family, from children to expectant mothers to seniors. When you first visit our clinic, our chiropractor will perform a thorough examination to determine the underlying causes of your pain. As part of our diagnostic process we use Tytron Thermography to scan your spine and neck to locate areas of possible damage or areas which may be misaligned. We may also utilize some of the services offered by our colleagues in the Oakview Medical Building such as x-ray, MRI, CT and laboratory work. Once we have a thorough understanding of what is causing your headaches, back pain or numbness we will develop an individualized treatment plan to suit your exact needs.
We may recommend trigger point therapy, cold laser therapy, traction or decompression to relieve your headache and back pain or numbness. Neuromuscular release may be used to increase blood circulation and reduce swelling. In addition to our full range of hands-on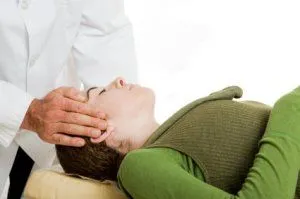 adjustment techniques, we also utilize the latest in electronic equipment to help our patients. All treatment rooms are equipped with PulStar adjusting instruments and adjustment tables able to accommodate all of our patients' health care needs. PulStar is an analysis and adjusting system which allows our doctor to easily see where the problem is and how best to treat it. We can also use PulStar to make spinal adjustments through multiple short impulses without using the hands-on approach.
At the Chiropractic Health Clinic, we want all of our patients to live the best life possible. We believe that our Omaha chiropractic care, along with corrective exercises, nutritional counseling and lifestyle advice can be the key to a healthier life. We are dedicated to helping patients find relief from pain or injuries and achieve their wellness goals. Don't live with pain any longer, let our chiropractors help you get back to health.
Call us at (402) 778-5470 to learn more about how we can help you.