Omaha Chiropractic Health Clinic
For over 30 years, Dr. Mark Eiler has been offering chiropractic care to patients from all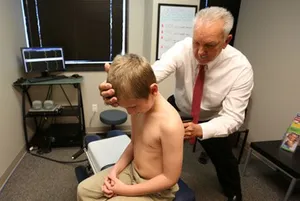 kinds of pain. If you suffer from
back pain
, neck pain, numbness, headache and migraine pain or muscle strain, we are here to help. Dr. Mark, Dr. Andrea and Dr. Justin are all graduates of Palmer College of Chiropractic. Additionally, all three have experience helping patients recover from
car accident injuries
, sports injuries and workers compensation injuries. We have also successfully treated people as young as newborns and as seasoned as grandparents. We love providing relief and hope through skilled, technologically-advanced spinal care.


Multi-Faceted Chiropractic Care in Omaha
The key to a healthy life is a healthy spine, and our Omaha chiropractic clinic is the place to learn about how to achieve one. Since the spinal cord travels from the brain down through the spinal column, the alignment of your spine has a significant impact on how messages travel from your brain out to your nerves, and to every part of your body. Spinal misalignments, whether from years of poor posture, or a car accident injury, can pinch nerves and lead to pain throughout the body. Depending on which vertebrae are involved and which nerves are pinched, a misalignment (what we chiropractors call a "subluxation") could cause anything from neck and back pain to headache and migraine problems to numbness and pain in the extremities.
Our Omaha chiropractors will first determines the exact location and extent of a patient's subluxations through careful examination. The doctor can quickly scan a person's spine using our infrared Tytronics instrument, which produces a visual graph showing temperature differentials and misalignments. We also use the PulStar system to diagnose, pinpoint and graph the location of spinal injuries. The PulStar can then deliver gentle, targeted impulses to the spine that help move vertebrae back into optimal position.
In addition to the PulStar, we are trained to deliver gentle, precise, hands-on chiropractic spinal adjustments. Naturally, each patient is different, so the technique or combination of techniques used depends on the patient's condition and health goals. The Palmer Package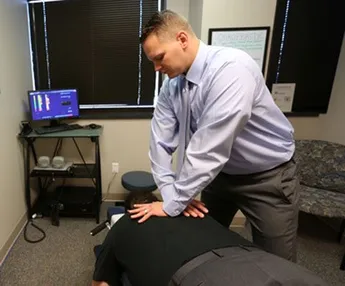 techniques, for example, include a variety of spinal adjustment styles including the Thompson, Gonstead, Toggle and Flexion-Distraction techniques. During these treatments, our chiropractor makes hands-on adjustments to the alignment of the spine on a special adjusting table. These techniques often lead to amazing pain relief once the spine is realigned and pinched nerves are released.
We also complement our chiropractic techniques with physiotherapy options to help alleviate musculoskeletal pain and injury problems. Spinal decompression, for example, is a very helpful treatment that takes pressure off of injured discs and can lead to dramatic pain relief. For soft tissue and muscle strain, we offer neuromuscular release and trigger point therapy. These drug-free, non-invasive techniques all help the patient's body start healing from the inside out by stimulating the body's own self-healing mechanisms.
Not only can a healthy spine bring welcome pain relief, but it can help your whole body feel well and healthy. Please call us today at (402) 778-5470 to schedule an appointment!