The Chiropractors of Chiropractic Health Clinic in Omaha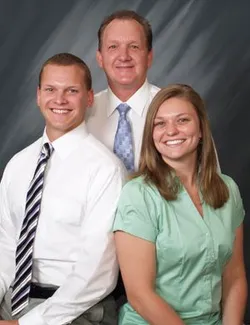 ---
Dr. Mark Eiler is a Palmer graduate and one of Omaha's leading experts in spinal care. He has incorporated the latest chiropractic technology and advanced spinal imaging to find the source of spinal dysfunction and nerve related conditions, which affects our health. Dr Eiler utilizes new "minimal invasive" spinal adjustment procedures which allows patient's of all ages to relax during their spinal adjustment procedures. At Chiropractic Health Clinic located in the Oakview Medical Building, Dr. Eiler's key to success remains a very traditional endeavor: listening to the patient and doing a thorough case history and chiropractic spinal exam. The results of the initial examination will then set the stage for the application of the most advanced spinal adjusting technology in the world! Dr. Mark Eiler combines three key components in his care of each patient:
Compassionate personal attention
Expert chiropractic skills
The best chiropractic technology available anywhere in the nation!
He combines these components to turn your unique spinal condition into a specific treatable approach. Prior to coming to Chiropractic Health Clinic, many of Dr. Eiler's patients have seen multiple doctors, experienced failed spinal surgeries and wasted their time with therapies and medications that didn't work! They have even had their pain questioned! Time and time again, Dr. Eiler has demonstrated that specific chiropractic had been needed to further resolve their underlying spinal dysfunction and pain.
Dr. Eiler attended undergraduate studies from the University of Nebraska at Omaha and has a doctorate of chiropractic degree from the prestigious Palmer College of Chiropractic. He earned an additional 100 post-graduate studies in radiology in the specialty field of spinal and skeletal disorders. Dr. Eiler has served as the past clinical director of the Integrative Medicine Program for the University Nebraska Medical Center at Clarkson West. He is the first doctor of chiropractic in Nebraska to have had such an affiliation. He enjoys limited medical staff privileges within the University Nebraska Medical Center system. Dr. Eiler is currently doing extensive research on ancient civilizations hidden knowledge of the spine and it's relationship to health and has hopes to publish his findings to the world!
---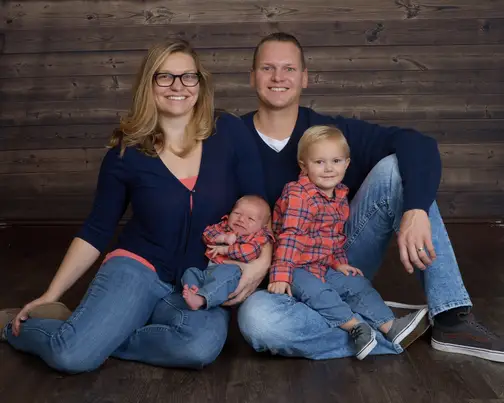 Dr. Andrea M. Eiler, an Omaha chiropractor, is committed to helping families in the community experience improved health and vitality. She enjoys educating others on how to manage their stress, how to prevent injury in the workplace and at home, and how to maintain optimal performance. Her mission is to empower as many people as possible to experience their optimal health potential through genuine chiropractic care and education.
Dr. Andrea received her Doctor of Chiropractic from Palmer College of Chiropractic, graduating with academic excellence and honors. She utilizes a multitude of techniques to best fit the patient's needs. The office also performs physiotherapy and rehabilitation exercises. Her love of chiropractic and genuine concern for others drives her pursuit of excellence in her work as well as her service to the community.
Dr. Andrea welcomes anyone who ascribes to a higher level of wellness and health, including patients with chronic low back pain, headaches, neck and shoulder pain, sports injuries, pregnant women, children and infants.
Dr. Andrea, is an ICPA (International Chiropractic Pediatric Association) doctor in Omaha, NE with specialized training in pediatrics and pregnancy. She lives in Omaha with her husband Dr. Justin and their two boys Charles and Walter.
---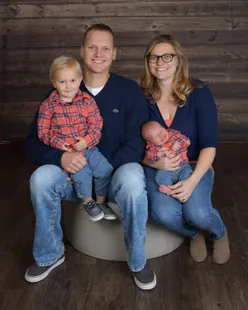 Dr. Justin M. Eiler is an Omaha Chiropractor practicing at Chiropractic Health Clinic at Oakview Medical Building. Dr. Justin strives to provide his patients with the highest level of health care utilizing Chiropractic. From children to grandparents, and elite athletes alike, Dr. Justin provides specific chiropractic techniques to different patients needs and health concerns. Dr. Justin not only provides chiropractic adjustments and physiotherapy to his patients, but also teaches patients how to prevent their health issues from arising again, and preventing future injuries. Whether a patient's health issue be due to poor lifting techniques, improper posture at work, improper sleeping habits, falls, or other lifestyle issues, Dr. Justin provides his patients with the tools they need to live a healthier, more fulfilling life without drugs and surgery!
Dr. Justin's number 1 goal for each of his patients is to get them well as quick as possible and prevent the health concern from reoccurring! His 2nd goal is to educate all his patients to the importance of Chiropractic Care as a preventive form of health care, a natural way to enhance sport performance, and how chiropractic care helps far more than just pain relating to the back.
Dr. Justin is proud to have received his Doctorate of Chiropractic from the world's most respected chiropractic college, Palmer College of Chiropractic, with honors of Cum Laude. The techniques he uses include: Thompson, Diversified, Gonstead, PulStar FRAS, Cox-Flexion/Distraction, and Active Range of Motion trigger point therapy. He utilizes these specific techniques for specific conditions. When appropriate certain techniques can be utilized upon patients request. Dr. Justin is able to help many conditions and all ages. He has a special focus with athletes and upper cervical conditions.
Dr. Justin Eiler is an chiropractic physician at Chiropractic Health Clinic located at Oakview Medical Building. He is proud to practice with his wife Dr. Andrea Eiler and his father Dr. Mark Eiler. Justin is an Omaha native who grew up receiving chiropractic care all his life, following his father's footsteps into the profession. Dr. Justin enjoys spending time with his wife and two sons, weight lifting (a former competitive power lifter), running, and golfing. He received his undergraduate from the University of Nebraska at Omaha and graduated from Ralston High School.
---
Megan has been with our office since 2019. She grew up on the outskirts of north Omaha. Megan took a six month sabbatical to live in a RV and traveling with her fiancé, while traveling she discovered she had a green thumb. Megan is a plant and animal enthusiast, she loves all animals from her pet snakes to her dog, cats and horses. She is always outside in her free time, either with the horses, gardening, or fishing with Dalton. She is getting married in August 2023 to Dalton, a jack of all trades.

Kiley has been with our office since 2018. Kiley married her husband Kyle in 2015 and they welcomed their daughter Hailey in January 2023. She loves taking Hailey for walks around the park and their neighborhood. Kiley also enjoys spending time with her family, being the baby of 7 kids there is always family events to attend. She grew up on a farm in small town Nebraska and loves to visits as much as possible.