Omaha Chiropractic Care for Sports Injury Care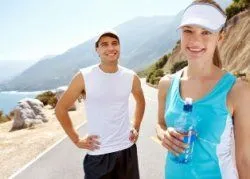 Each chiropractor at the Chiropractic Health Clinic has treated many different types of sports injuries. Serious athletes and weekend warriors, as well as people just embarking on a new fitness regimen, can twist, strain and pull muscles that cause enough pain to put them on the sidelines. But our team is committed to helping all of our Omaha sports injury patients get back in the game as quickly as possible. We provide a wide variety of proven, drug-free, non-invasive healing techniques that stimulate the body's own natural healing processes. We also coach our patients on ergonomics so they are less susceptible to future sprains and strains.
Chiropractic Care in Omaha for Sports Injuries: Healing the Strain and Pain
Each Omaha chiropractorat our center diagnoses and treats several kinds of sports injuries each week. Back muscle strain, ankle sprains, knee injuries, whiplash, shoulder injuries, arm, wrist and elbow injuries are all common sports injuries. Each patient undergoes a thorough examination. Once we understand the extent of the injury, we can develop a comprehensive healing plan, tailored to the individual patient's needs. Depending on the injury, we usually recommend a course of chiropractic spinal or extremity adjustments to free pinched nerves, as well as a combination of soft tissue therapies that address muscle strains in various parts of the body.
Our chiropractors may use our infrared Tytronics instrument to graph temperature differences in the spine that indicate musculoskeletal misalignments that may be pinching nerves. Our PulStar system also electronically diagnoses musculoskeletal misalignments and then can actually help correct those with targeted, gentle mechanical impulses. Our chiropractors are very experienced with a wide range of manual adjusting techniques contained in the Palmer Package, including the Gonstead, Thompson, Flexion-Distraction and Toggle techniques.
Our physiotherapy treatments support musculoskeletal realignment by stimulating healing within injured soft tissues. We have had much success treating sports-related muscle strains with cold laser therapy, for example. Aiming a laser (set to a specific therapeutic wavelength) directly into a muscle strain accelerates the healing process. This stimulates injured muscle cells to regenerate healthy tissues for faster healing. Cold lasers decrease inflammation and relieve pain too. Also, when a muscle is injured or overused, thick adhesions build up, preventing the muscle from functioning properly. The adhesion itself can be painful, but it can also cause imbalance in adjacent tissues as well. So we apply trigger point therapy and neuromuscular release to break down adhesions and help muscles regain normal strength and range of motion.
Although many sports injuries are unavoidable accidents, there are many others that truly are avoidable. We teach patients therapeutic exercises and stretches to help them regain strength and flexibility. We also coach them on good exercise form, proper warm ups and helpful cool downs. These routines can enhance flexibility and prevent unfortunate sports mishaps.
Contact us today at (402) 778-5470 to schedule an appointment with our chiropractor so you can start healing and get back to enjoying your sport or exercise routine as soon as possible!

---
Related Pages
Sports Injury Recovery
Sports Injury - National Institutes of Health